Thursday, August 11, 2016
11:40 AM |
Posted by Digicats
|
Edit Post
Lammas is the pagan festival celebrating the first fruits of harvest, the fruits of our labours, and seeing the desires that we had at the start of the year unfold.
In this day and age when food is mass produced and imported so we get fruits and veg and corn no matter what time of year it is, it is easy to loose touch with the natural cycle of things. So now is a good time to go for a walk in the woods and get back in touch with nature.
This beautiful kit celebrates the first harvest, and change from summer to fall. The power of the sun goes into the grain as it ripens. It is then harvested and made into the first new bread of the season. (These practices gave rise to the Christian sacrament of Communion.)
It comes with 12 .jpg papers, 40 .png elements and one "gypsy" poser by ©Moody Designz.
Included in the kit are 2 bows, 2 foliage, 2 frames, 2 poppies, 2 ribbons, 2 wheat, 1 branch, 1 apple barrel, 1 athame, 1 besom, 1 bird, 1 brad, 1 bread, 1 butterfly, 1 cauldron, 1 corn, 1 deer, 1 dream catcher, 1 glitter, 1 grail, 1 grassy border, 1 hat, 1 lantern, 1 leaves, 1 peach, 1 pear, 1 rowanberry, 1 spell book, 1 sunflower, 1 tag, 1 tomato, 1 tree, 1 wand, and 1 watermelon.
300 DPI. Personal use only. Available in
FULL
and
TAGGER
sizes!
Beat the Heat! Stay in and Scrap! Save 35% on Digicats full and taggers size kits as well as poser packs and CU products! Lots of cool deals are going on this month in the Digicats' shop at Wilma4Ever.com!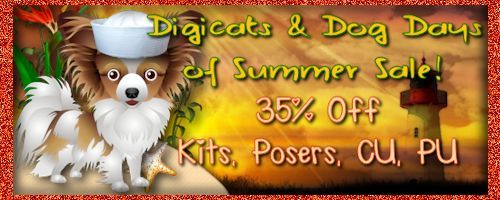 Labels:
autumn
,
Digicats (& Dogs)
,
harvest
,
Pagan
,
Summer
Blog Archive