Tuesday, August 2, 2016
5:55 AM |
Posted by Digicats
|
Edit Post
Welcome to the Fun House where everyone is a clown! This circus themed digital taggers kit is great for all those times your just feel like having a laugh.
It comes with 10 (800 x 800 pixel) .jpg papers and 25 .png elements for your big top entertainment.
You are getting 2 bows, 2 flowers, 2 frames, 2 ribbons, 1 balloon pony, 1 clown, 1 clown car, 1 clown flower, 1 clown hat, 1 clown-in-a-box, 1 clown mask, 1 clown shoe, 1 cotton candy, 1 fun house entrance, 1 juggling club, 1 mirror, 1 popcorn, 1 puppy, 1 tent, 1 tickets, and 1 unicycle.
300 DPI. Personal use only.
Created for the August 2016 Tag Surprise Challenge. Look in
our forum
for details on how to get this kit free for August 2016 only. :)
Beat the Heat! Stay in and Scrap! Save 35% on Digicats full and taggers size kits as well as poser packs and CU products! Lots of cool deals are going on this month in the Digicats' shop at Wilma4Ever.com!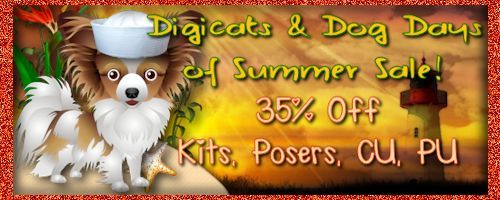 Labels:
circus
,
Clowns
,
Digicats (& Dogs)
,
Summer
,
Tag Surprise Challenge
Blog Archive