Thursday, September 17, 2015
1:32 PM |
Posted by Digicats
|
Edit Post
Digicats (& Dogs) is now selling out of Wilma4Ever! Be sure to check for great weekend specials, plus an in-store
FREEBIE
! Now through 30 September, save 40% on all Digicats' kits and poser packs! It's Digicats September Savings Event!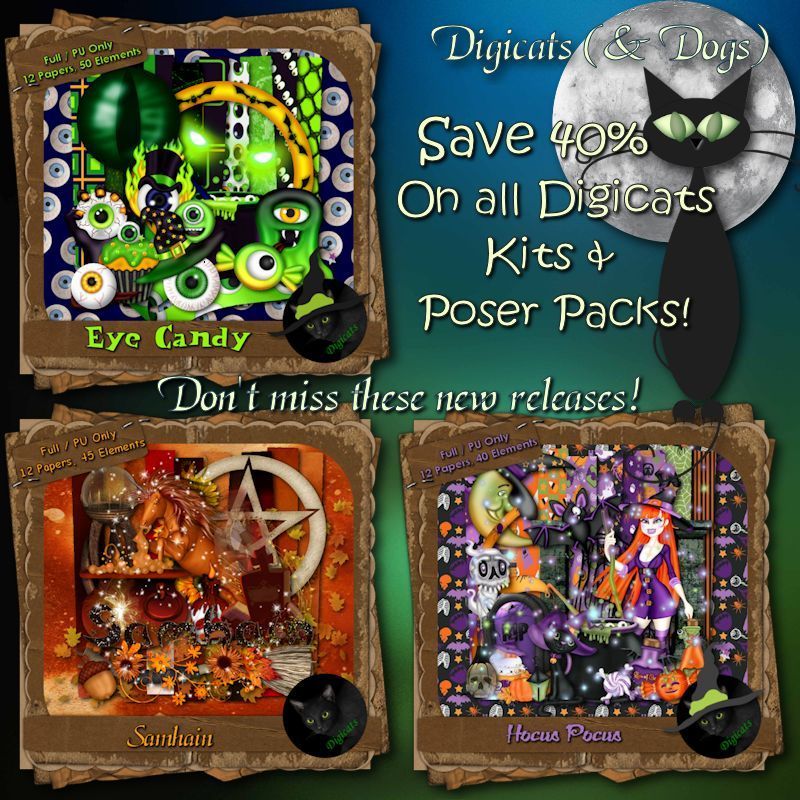 Newest releases:
Eye Candy
You are being watched! Camera eyes, evil eyes, private eyes...eyes, eyes, EVERYWHERE! And just because you're paranoid doesn't mean they're not out to get you. Watching, watching, day and night....
But what are you watching? This Halloween themed digital scrap kit comes with 12 papers, and 50 elements and lots of eyes to watch...or to watch you! Available in
FULL
and
TAGGER
sizes.
Samhain
Considered by many to be the most important Sabbath in the wheel of the year, Samhain is a time to celebrate the lives of those who have died and to pay respect to ancestors, family members, elders, pets and other loved ones who have died. The veil between this world and the afterlife is thinned, and it's the easiest time of the year to communicate with those who have passed on.
This beautiful fall-oween digital scrap kit celebrates the Sabbath, which ushers in the darker time of year. It comes with 12 papers and 45 elements to help you remember your Samhain celebrations. Available in
FULL
and
TAGGER
sizes.
Hocus Pocus
Halloween is on the way, but YOU don't have to wait for a virgin to light a candle to get your witch on! Just wave your mouse and say "Hocus Pocus" and you're on the way to same great Halloween layouts!
This kit comes with 12 patterned papers and 40 .png elements. Available in
FULL
and
TAGGER
sizes.
Labels:
40% off
,
40% off sale
,
Digicats (& Dogs)
,
Halloween
Blog Archive